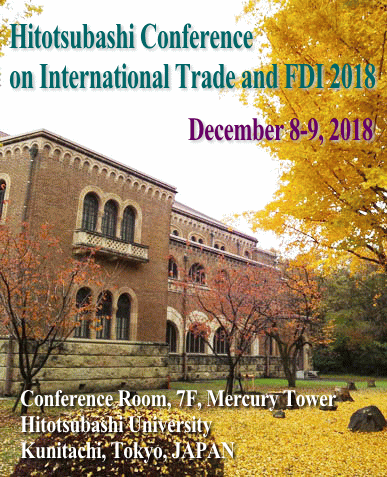 Mercury Tower
Lobby

Mercury Tower
Entrance

Mercury Tower

East Gate
We are grateful to all the participants for their great contribution to the conference.

Click here for more photos





| | |
| --- | --- |
| | Grant-in-Aid for Scientific Research (S)      |
| | (Diverse Risk Assessment in the Global Economy from the Viewpoint of International Economics) |
| | |
| | Center for Research on Contemporary Economic Systems |
| | |
Jim Anderson (Boston College, Hitotsubashi University )
Richard Baldwin(Graduate Institute, Geneva)
Jackie M.L. Chan (Chinese University of Hong Kong)
Rafael Dix Carneiro (Duke University,Yale University)
Jonathan Dingel (University of Chicago)
Teresa Fort (Dartmouth College)
Hiro Kasahara (University of British Columbia, Hitotsubashi University)
Kiminori Matsuyama(Northwestern University)
Ferdinando Monte (Georgetown University)
Takumi Naito (Waseda University)
Peter Schott (Yale University)


| | |
| --- | --- |
| | The conference is basically open to everyone. If you plan to attend the conference, please register by NOVEMBER 26 by sending a message to our secretary, Ms.Takada (takada@econ.hit-u.ac.jp). The conference reception will be held on December 8 (the fee is about 2,000 yen for students and about 4,000 yen for others). When you register, please inform Ms.Takada as to whether or not you attend the reception. |



1. From JR Tokyo Station to JR Kunitachi Station (Approximately 50 minutes)

Take a Chuo-Line train from Track #1 or #2.
You may take any Rapid (Kaisoku) train EXCEPT the one bound for Musashikoganei. train.
If you take a Special Rapid (Tokubetsu Kaisoku) train, you must change to a Rapid train at Kokubunji.
See the Location Map .


2. From JR Kunitachi Station to Mercury Tower (10 minutes walk)

Exit from the south exit and walk for several minutes on the left hand side of the University Avenue (Daigaku Dori).
Enter the East Campus from the gate. Mercury Tower is located at the south-east end of the East Campus.
See the Campus Map .